What Are the Detection Methods of Thermal Imaging Cameras in the Die Casting Industry?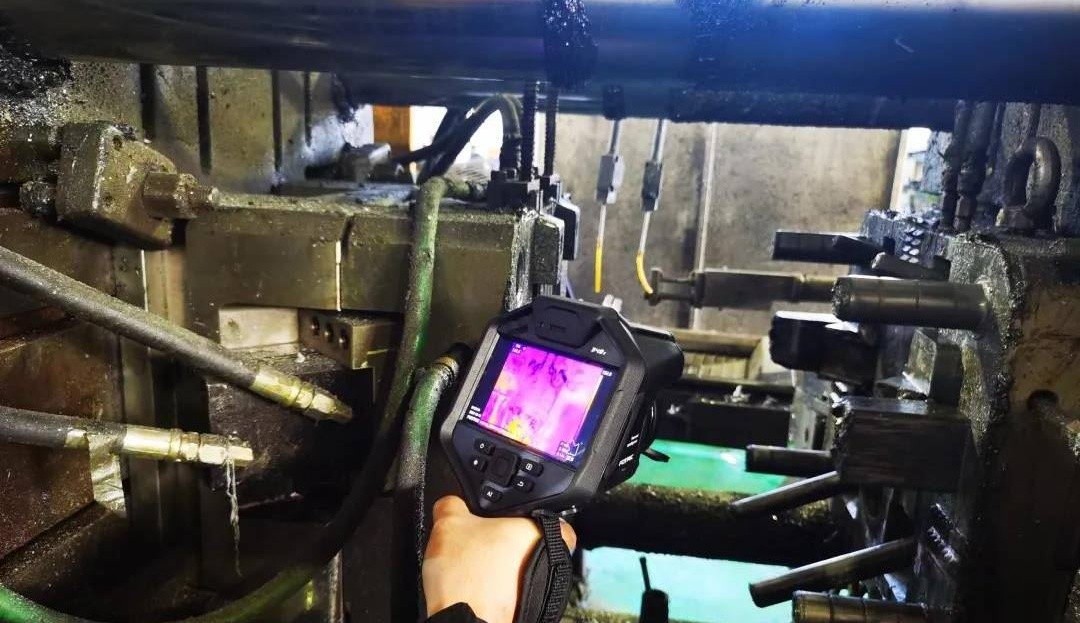 In the process of high-temperature die-casting, product defects such as sink marks, sand holes, cracks, and bubbles often appear. The cause of these problems is often caused by out-of-control of mold temperature.
The surface temperature of the mold has a direct impact on the quality of the products processed by the mold. The detection of the temperature distribution of the mold surface is of vital importance for ensuring the quality of the process and efficient and defect-free industrial production.
With the development of thermal imaging camera technology, the hardware cost of thermal imaging cameras continues to decrease. In addition, thermal imaging cameras can comprehensively monitor, measure temperature, and analyze mold surface temperatures. This is a good choice for enterprises and die-casting engineers.
The traditional mold temperature detection method is mainly aimed at the fixed-point measurement of the mold and cannot realize the monitoring of the entire mold surface. The
infrared thermal imaging camera
breaks this limitation and realizes the monitoring of the entire mold surface, and even any key point and its area.
Compared with traditional methods, infrared thermal imaging cameras are easier to achieve continuous production, have better temperature measurement accuracy, stability, and simple operation. Thermal imaging cameras can also realize data analysis, tracking, and real-time performance, which can well fit the trend of the big data era.
At present, infrared thermal imaging cameras in the die-casting industry are mainly used in moving molds, fixed molds, semi-solid materials, injection port (falling port) surface temperature detection, etc. The followings are the detection methods of thermal imaging cameras in the die casting industry.
Handheld thermal imaging camera
1. Compact structure, lightweight, and portability are the first major advantages of handheld thermal imaging cameras, which can be very convenient for the staff to carry and use.
2. The image picture of the handheld thermal imaging camera is very high-quality, which can accurately make non-contact temperature measurements.
3. Rugged and durable, ergonomic design is also another advantageous feature of infrared thermal imaging cameras. Hand-held thermal imaging cameras can be used for a relatively long time, and the product quality is also very durable, which can provide people with good product and service quality.
4. The handheld thermal imaging camera has highly humanized professional infrared image processing software, which can provide people with professional data analysis results and bring great convenience to people's lives.
5. The handheld thermal imaging camera is optimized for the harsh working environment and can quickly provide clear and sharp images needed to find faults. Infrared thermal imaging camera has very intuitive effects, and the use of functions is also very simple, easy to operate.
The online thermal detection system
System configuration: infrared thermal imaging camera (industry-specific high-protection thermal imaging camera), industrial switch, online control system, thermal image monitoring system software, module communication, flexible thermal image support, etc.
System functions:
1. All-weather monitoring: use the infrared thermal image monitoring system through remote control, without supervision and realize all-weather operation.
2. Real-time display: the real-time display of the full-radiation infrared heat map, and the staff on duty can view the temperature at any location.
3. Set Modbus value output and on-site alarm for key points or regional temperature on the monitoring screen.
4. It can monitor the surface temperature of the die-casting dynamic, fixed mold, semi-solid material, and feed inlet, and take pictures by triggering.
5. It can record, take photos, analyze abnormal situations, and issue professional inspection reports.
6. The I/O module can be used to instruct the thermal imaging camera to trigger the shooting of the thermal image and save it automatically.
7. On-site data transmission retains 5G, wired dual-channel mode.
If you want to know more about thermal imaging cameras after reading the above, you can get a comprehensive solution by contacting us.
As an experienced manufacturer of
thermal imaging systems
, ThermTec always prioritizes customer needs and controls the quality of its products. We have become a leader in this industry with our excellent production technology and leading research and development technology. Our products are used in all walks of life and have also received praise and trust from many customers. In addition, we will also provide effective solutions and professional customized services according to the actual needs of users. If you want to buy our thermal imaging camera, please contact us immediately!